microneedling & PRP services
Accesa Health's microneedling & PRP treatment helps reduce fine lines and wrinkles, acne scars and damaged skin, minimize pores, fade stretch marks, and improve the overall appearance of skin.
By activating the body's natural healing process, we're able to provide long-term results that improve over time, and leave you with smooth, healthy, and visibly revitalized skin. 
Our high-quality results are accomplished by our use of industry-leading devices: the SkinPen Precision Microneedling device and the ProGen Platelet Rich Plasma System.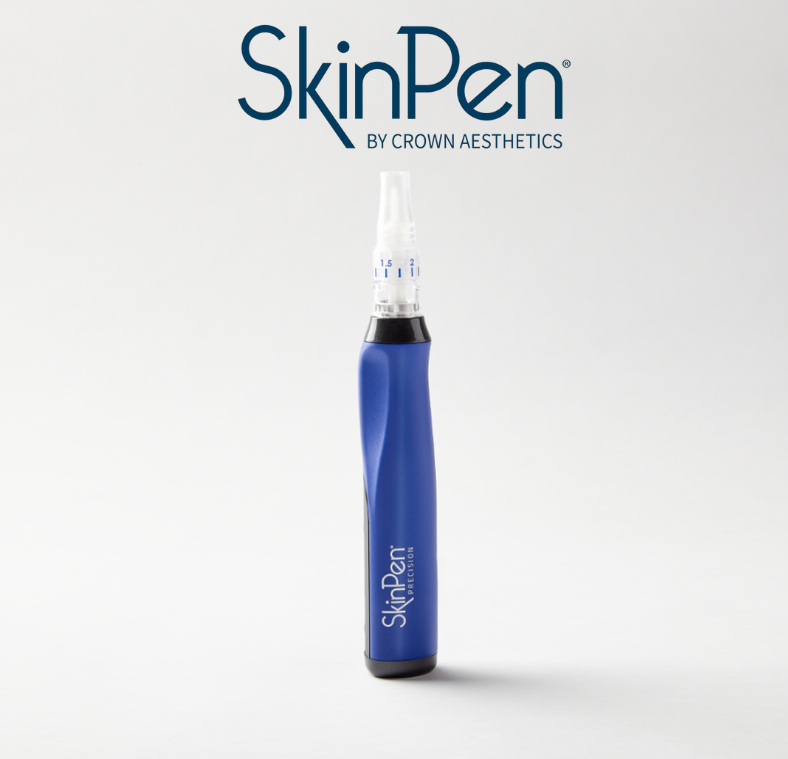 SkinPen is the first FDA-cleared microneedling device proven to be safe and effective in fighting the appearance of neck wrinkles and reducing the appearance of acne scars. This quick-and-easy treatment delivers impressive results that last up to six months. SkinPen doesn't rely on heat or chemicals, so the results are natural and safe for all skin tones and types. Unlike lasers or chemical peels that can damage skin over the long term, SkinPen treatments, when properly spaced and overseen by a physician, can be used for years.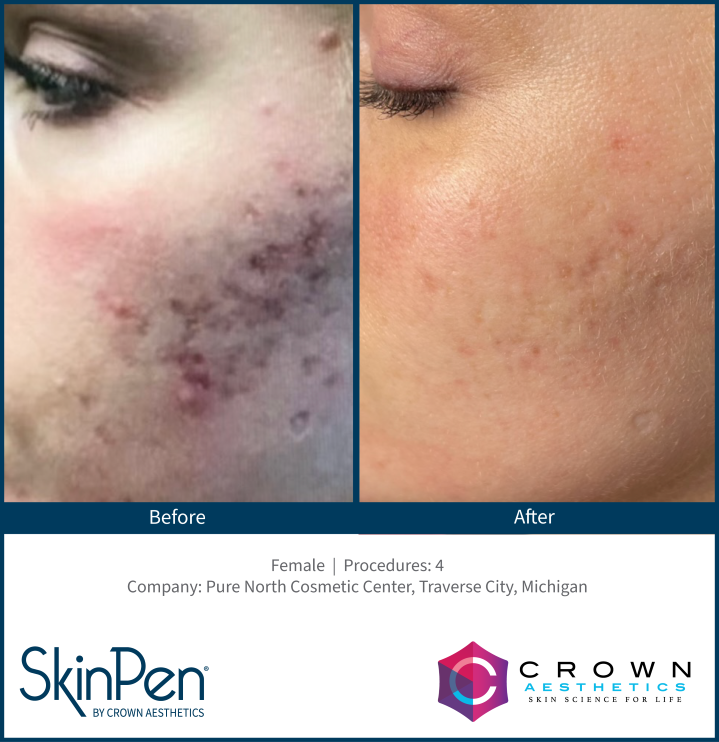 Benefits of Microneedling
Improving Skin Texture: Microneedling can help smooth out rough skin and reduce the appearance of fine lines and wrinkles.
Reducing Scars: It's often used to minimize the appearance of acne scars, surgical scars, and stretch marks.
Hyperpigmentation: Microneedling can help fade dark spots and pigmentation irregularities by encouraging the production of collagen and elastin, which can improve overall skin tone.
Tightening Loose Skin: The stimulation of collagen and elastin production can lead to firmer and tighter skin, making it useful for addressing mild sagging.
Reducing Pore Size: Microneedling may help minimize the size of enlarged pores.
Treating Skin Conditions: Some people use microneedling to address conditions like rosacea or alopecia (hair loss) when combined with other treatments.
Enhancing Product Absorption: The microchannels created by microneedling can increase the absorption of topical skincare products, making them more effective.
Overall Skin Rejuvenation: Microneedling can promote healthier, more youthful-looking skin by stimulating natural collagen and elastin production.
ProGen Platelet-Rich Plasma (PRP)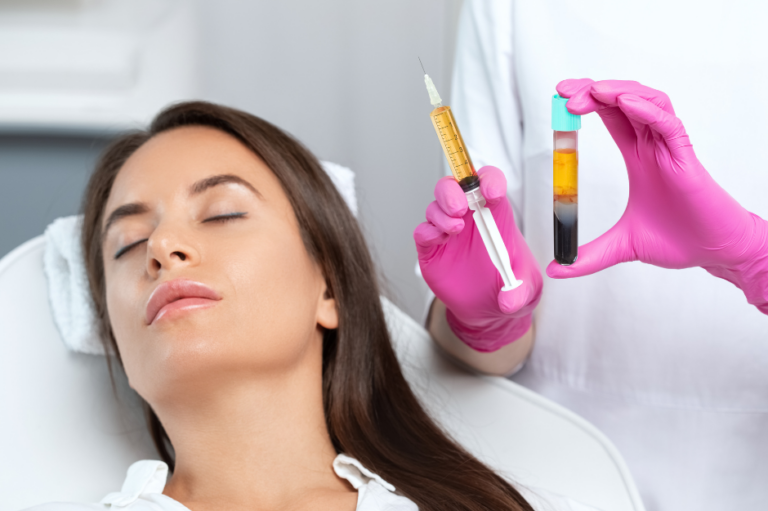 PRP is a platelet concentrated component from your own blood that contains nutrient rich cells and protein growth factors. When applied topically into the face, it promotes collagen production, improves skin texture, and reduces the appearance of fine lines, wrinkles, acne scars, stretch marks, and sun-damaged skin.
PRP is produced when a small amount of blood is drawn and placed into a sterile, disposable container and then, spun to separate the platelets from your blood sample, resulting in a platelet-rich plasma. We use the ProGen PRP System which is considered the gold standard in PRP therapy. 
Benefits of Combining Microneedling & PRP
PRP is often used in combination with microneedling for several reasons, as the two treatments can complement each other to enhance skin rejuvenation and improve specific skin concerns.
Enhanced Healing & Collagen Production: PRP delivers a concentrated source of growth factors and platelets directly to the treatment area. These growth factors can further stimulate collagen and elastin production, promoting faster and more robust tissue regeneration.
Improved Skin Texture: The micro-injuries from microneedling allow PRP to penetrate deeper into the skin, increasing its effectiveness in addressing fine lines, wrinkles, and texture irregularities.
Reduction of Scarring: For individuals with scars from acne, injuries, or surgery, the combination of PRP and microneedling can help soften the appearance of scars by encouraging collagen remodeling and tissue regeneration.
Hyperpigmentation & Skin Tone: PRP can contribute to an even skin tone by helping to reduce the appearance of dark spots and pigmentation irregularities. 
Faster Recovery: PRP can aid in the healing process by reducing redness and inflammation and potentially accelerating the recovery time.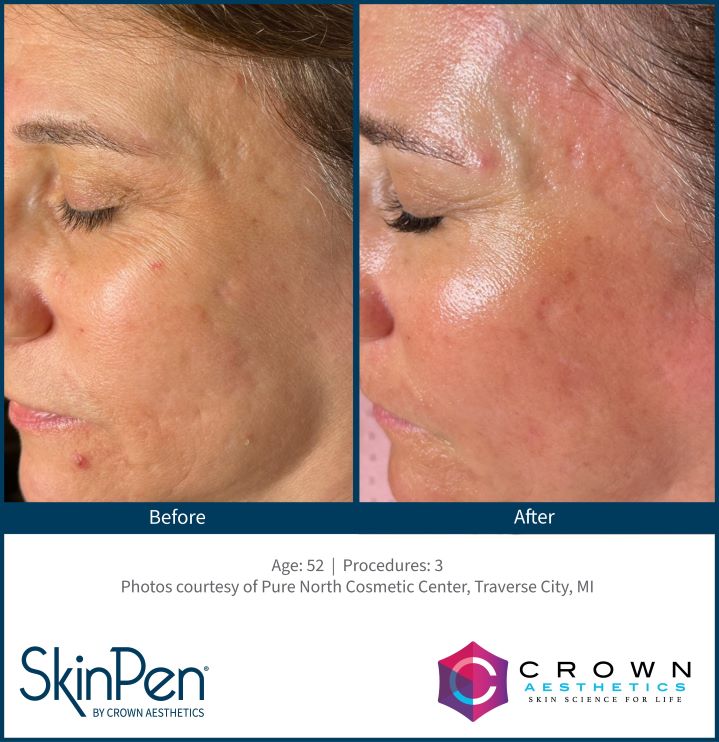 SkinPen Microneedling & ProGen PRP Pricing
Frequently Asked Questions
Contact Us
Have Questions? Get in touch!